First as always I wanted to say Thanks to Jennifer T. for taking the time to make a donation to the site. I'm sure money is tight this time of the year with the holidays upon us. Thank You Jennifer, I do really appreciate it

——————————–
Updated 8 PM - All of the cities were just updated. Unfortunately there were quite a few not reporting the new snowfall from the storm. There was quite a bit of shuffling and a couple of the cities finally managed to get on the snow board such as Baltimore, MD. I'm guessing there will be a lot more shuffling around come the next update.
3 of the cities so far have set a date record for snowfall even though it wasn't a lot fo snow being reported. Allentown, Pa set a date record with 3.1 inches so far breaking the old record of 1.7 inches set way back in 1925. Newark, NJ set a date record for snowfall with 1.4 inches beating the old record of 9.1 set in 1955 and Hartford, CT broke theirs with 1.3 inches beating the old record of 0.4 set in 1985.
The biggest mover this update which had nothing to do with the Nor'easter was Madison, Wisconsin who jumped up 19 spots on the snow mountain from being in 29th place to the number 10 slot now. WTG Madison
Stay Tuned!
—————————————
Update 5 PM - I am starting an update with the new storm snow stats. Should be out in a bit
OK, it looks like it's going to be an interesting 24 hours or so as far as this snow storm on the East coast goes. It also looks like it may be a chance for some of the cities to catch up a little bit. I don't think we will see any big snow totals like what we saw in the towns around the Buffalo area but I'm guessing there will be some changes in the top 10 after this first Nor'easter of the season goes through.
Is it snowing where YOU are? Drop a comment here if you have some time and let us know what it's doing in your neck of the woods.
A couple of pictures from a friend in Milford, Pa from the Snow Storm
Grand Rapids remains the king of the snow mountain still and looks to be safe for now anyways. Erie is only a couple of ropes away from them though and remember, they still have the bragging rights from being crowned snow champs last season. I saw a clip of some snow falling in Billing, Montana earlier and they are way overdue to start making a move. Then again I keep forgetting it's only November because of all of the snowfall that has fallen already this soon in the season for some of the snowiest cities in the US.
This could be a chance for cities like Philadelphia, Boston, Worcester, Maybe New York City, Baltimore and Washington DC to get their snow season going. I think, and remember I am always clueless, that it's going to all come down to the temperatures for the cities south of DC. Below are a couple of radars of what it looked like before I went to bed last night/this morning
Just click on either one and it will bring you to the live radar and to the National Weather Service site for the most recent updates. Please drive careful in this Thanksgiving Eve Day snow storm if you are traveling. No doubt the highways and roads will be nasty toward the north.
The storm seems to be moving a little closer to my hometown Syracuse but I don't think they are going to have more than a few inches unless it shifts inland more. Right now I am visiting my Grandson Corbin in North Carolina and it's been nothing but heavy rain off and on for about the last 12 hours or so. It looks like that may finally be coming to an end
Just Click on The Radar and Then Click on Your Area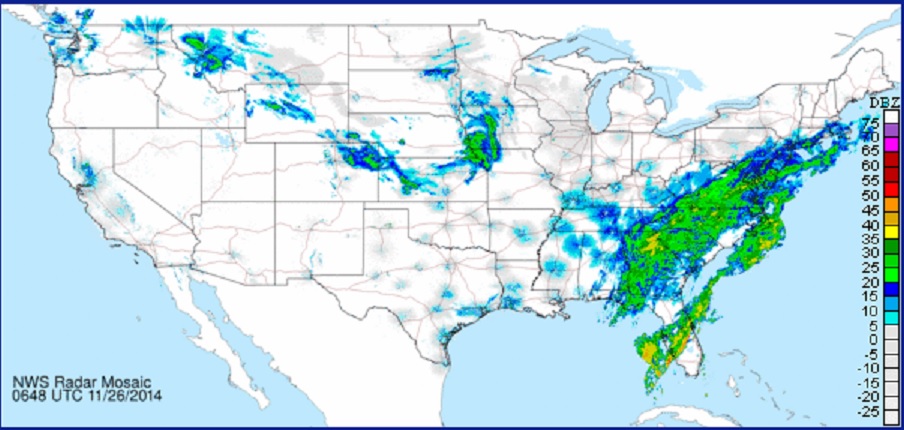 National Weather Service Map of Current Storm Conditions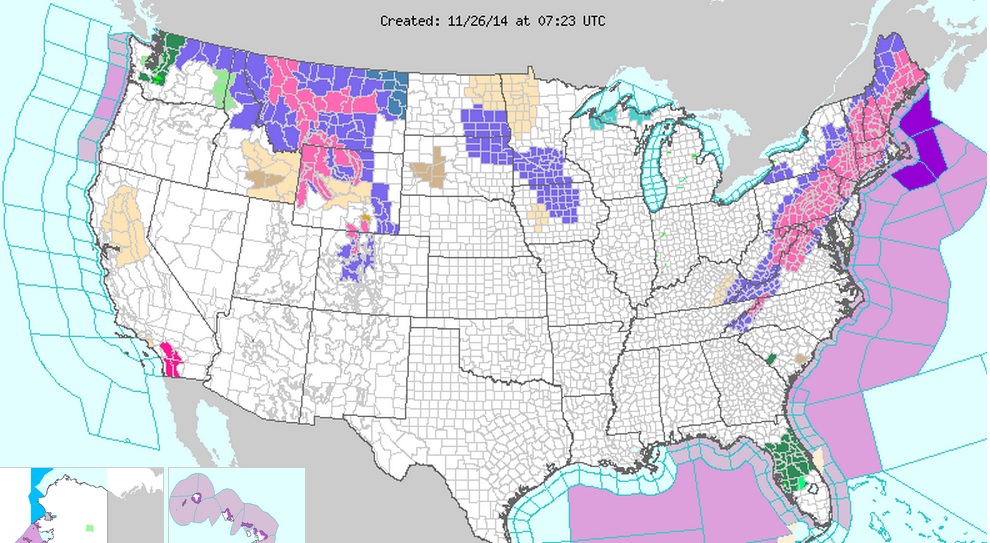 Have an Awesome Day All