Chicago's 1st Measurable Snow of 2016-2017 Snow Season
First off as always, a Big Thank You to Timothy B. for your recent donation to the snow site. It's the first donation of the new snow season. I really appreciate it and they really help out a lot. Thanks, Timothy

———————————————–
Chicago, Illinois and several other cities across the United States received their 1st snowfall of the season. Remember, this snow contest is for cities with a population of 100,000 or more as of the last US Census.
Chicago had the first snowfall of the 2016-2017 snow season picking up 6.4 inches of snow Sunday sliding into a tie for 4th place with Grand Rapids, Michigan. Chicago also set a date snow record for 12/4 Sunday with the fresh 6.4 inches of snow beating the old record of 5.1 inches which was set back in 2010. WTG Chicago and let's see if you can stay in the Top 5
Current Top 5 Snowiest Big Cities in US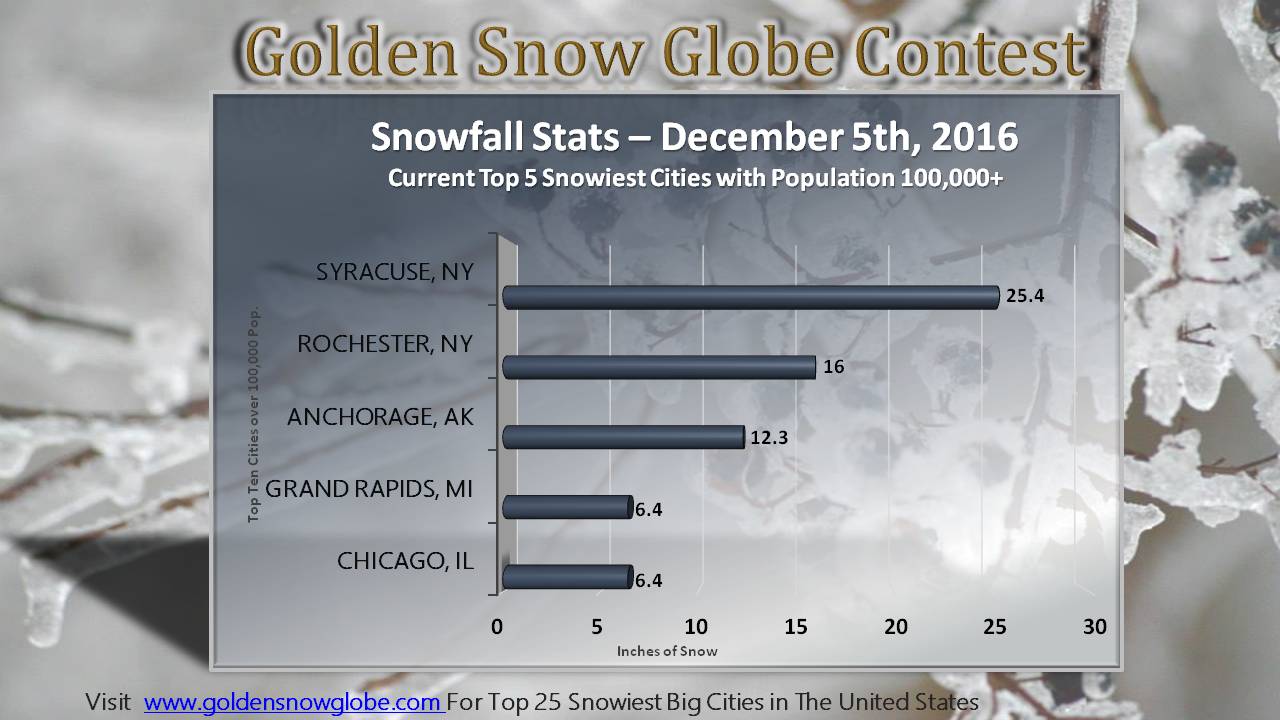 Click Here for Top 25 Snowiest Cities in US.
Grand Rapids, MI did some mountain climbing also picking up 5.6 inches of snow on Sunday just missing a snow record of 5.9 inches that was set in 2009. Grand Rapids jumped all the way from the #23 spot on the snow mountain to the #4 spot.
Some Big Cities Had The First Snowfall 2016-2017 Snow Season
All in all about 13 Big cities with a population of 100,000 or more received their first snowfall of the season over the weekend with several cities breaking the date record for snowfall. Some which include:
1st Measurable Snow for The Season

Chicago, Illinois
Madison, Wisconsin
Rockford, Illinois
Peoria, Illinois
Lansing, Michigan
Springfield, Illinois
Milwaukee, Wisconsin
Lincoln, Nebraska
Flint, Michigan
Omaha, Nebraska
Des Moines, Iowa
Toledo, Ohio
Colorado Springs, Colorado
Some Cities That Set Date Snow Records Sunday
* Fort Wayne, IN – new snow record 2.7 inches breaking the old of 1.8 set in 1972.
* Chicago, IL received 6.4 inches breaking the old record of 5.1 set in 2010.
* Madison, WI had 5.7 inches of snow Sunday breaking the old record of 5.6 set in 2007.
* Peoria, IL new date record is 4.2 beating the old record of 2.9 inches of snow set way back in 1964.
I should be getting another snow update in later this afternoon-early evening so stay tuned and stay safe. Have an Awesome Day