I Finally Get To Play in Snow in North Carolina
It's looking like where I am at, which is just a little south of Raleigh, NC, may be getting 4-8 inches of snow according to some reports I have been seeing. It looks like I may be adding a city or two from North Carolina and maybe a couple of other cities down south to the National Golden Snow Globe contest.
All I can say is it's about time, Bring It On, and I am looking forward to it
One thing you need to remember is that the Golden Snow Globe contest is about listing the Top 25 snowiest cities in the US with a Population of 100,000 or more as of the 2010 Census. I try my best to keep the Top 25 snowiest Big cities updated as much as I can and keep in mind that sometimes it is changing by the minute
I also list a lot of other cities around the country just for Fun and to give us an idea of how much snow they are getting in those areas and States. I always keep the cities that are close to breaking into the Top 25 on the site along with cities that I think may have a chance at breaking into the Top 25.
So Yes, cities that aren't in the Top 25 come and go during the snow season and any cities below the Top 25 may have less snow than another city that isn't listed in the snow contest. I like to keep the list at around 40-50 which allows me to get more updates in each day.
OK, Some or most of you know I have been down in North Carolina hanging with my Grandson for awhile now. I have been missing the snow and I have only seen snowfall down here a handful of times. I'm looking forward to getting outside and playing in it with my Grandson. Of course, it also means that most of the area will be shut down if this snow does pan out.
The 1st time I saw snow down here it was around 3 inches give or take. Just enough to shut down the schools for 3-4 days. I never understood reading about it being from up north but Yes, it really does happen and Trust Me, they are smart to close everything down.
A Little Snow in South Like a Lot of Snow up North
It's not like up north in Syracuse, Buffalo, Rochester, Erie or the Tug Hill area where we have plenty of plows and other equipment to help keep things running smooth or as smooth as possible anyways. I didn't see a plow on our road that time everything shut down which means everything just gets packed down and sooner or later turns to pure ice. So to keep this short, most of the Meme's you see are true about the south but for good reason
I guarantee that my daughter, her boyfriend, and friends will have the four wheelers and the RZR's cranked up and playing in the snow too. They are always riding so the only difference is that it will be in snow instead of mud this time around
According to reports from the National Weather Service and some local news stations, it looks like the snow will start falling really late Friday night into Saturday. Raleigh, North Carolina and the surrounding areas including where I am staying are under a Winter Storm Watch right now which is in effect from January 6, 07:00 PM EST until January 7, 07:00 PM EST
Here are a couple of snow maps showing a couple of possibilities including how much snow the National Weather Service is thinking will fall and another map of what has a chance of falling in parts of North Carolina with storm Helena.
Snow Totals Expected Now For NC From Friday, 7pm thru Saturday 7pm
Snow Map of Possible Snow Totals for Fri 7pm Thru Sat 7pm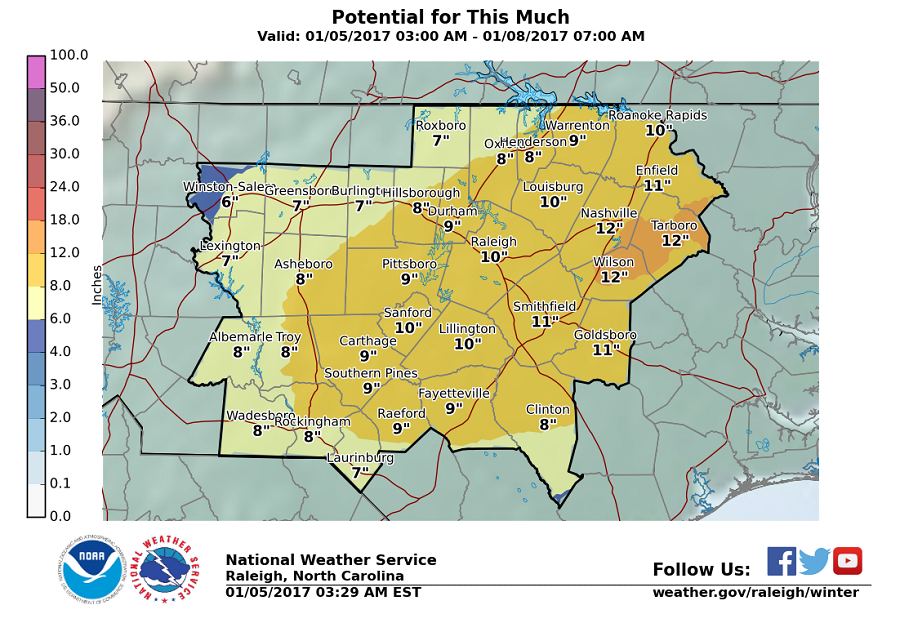 For those of you visiting down here in North Carolina, listen to the news stations and stay off the roads. Trust me, it will be a whole different kind of driving then it is up north. Stay safe all and have a Great day.