Updated 2/10 7:00 PM – Erie marches back to the Top of the snow mountain into the number 1 spot. Congrats Erie, for now anyways
I figured it was going to be kind of close looking at some snow stats a little earlier. I had a feeling Erie was going to get enough snow this morning and today to take the lead away from Lakewood, CO. The only thing I was concerned about was that I saw that Sioux Falls, SD was getting some snow and thought they may have had a shot at regaining the lead also in the snow contest
Stay Tuned and it will be interesting as to which city will come out on top come tomorrow
Click Here for The Newest Snow Update!
———————————————
National Snowiest Big City In United States Contest
The Golden Snow Globe contest has really been starting to take shape the last week or two with many cities getting enough snow to have a shot at being the King of the Snow Mountain. The good news is that all of the Great Lakes are pretty much wide open which means Lake Effect snow for everyone
Whether we like it or not there is still a lot of snow season left. Yeah, I know, be quiet huh
With the Great Lakes having little ice on them compared to an average winter season this is a good chance for some of the cities further down the list to start their comeback. Cities like Buffalo, NY have a good chance to move up quite a bit this week and I am guessing they will… And where is Rochester, NY this season and a few others. It's time to join the snowball fight and have some fun
Great Lakes Ice Cover 2/9/2016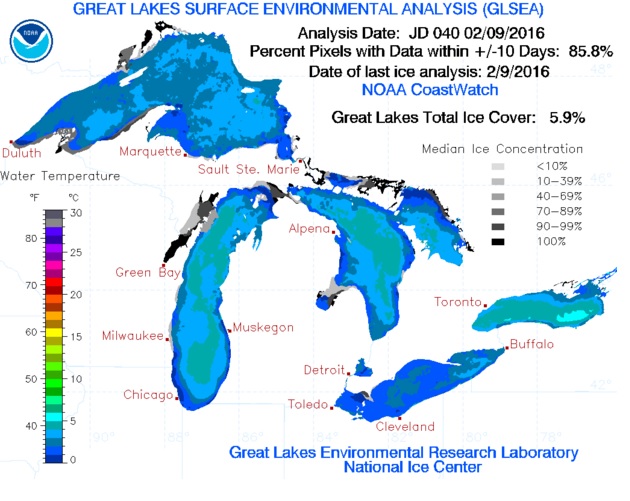 Erie, PA which was the King of the snow mountain not too long ago picked up just enough snow to climb their way into the number 3 spot yesterday. Snow is in the forecast for the next several days for a lot of the Golden Snow Globe cities and it will be interesting to see if/when we have a new King of the mountain. I'm guessing sooner rather than later.
Lakewood, Colorado still holds the lead in the National snow contest for Big cities (population of 100,000+) but only by 1.7 inches over second place Sioux Falls, South Dakota. Erie, PA is in 3rd, Fort Collins, CO is in a tie for 4th place right now with Syracuse, New York.
Several of the cities along the great lakes are under lake effect snow watches or warnings now. With the Artic air that is expected to move into the Northeast and other places in the US no doubt, some decent snow will be falling the next several days. It's going to be fun watching the cities slip and slide up and down the snow mountain
A lot of us have been paying attention to the cities around Lake Ontario and Lake Erie but I think it's time to keep an eye on a couple of the cities around Lake Michigan which is still wide open. South Bend, Indiana and Flint, Michigan come to mind and both cities broke into the Top 10 this last update. I was checking out the radar a little while ago and it looks like Lake Michigan's lake effect snow machines are cranking out snow in full force right now.
Stay Tuned and Stay Safe All. As always, if You See Snow – Drive Slow! Have a great day
The Massettchusetts cities, Worcester, Boston and Lowell finally got some decent snow and Worcester was able to finally break into the Top 25 snowiest cities.