Updated 11/20 - Just a quick post to say Congrats to Anchorage, Alaska for being the first Big city with a pop of 100,000 or more to be the first city to join the 1 foot of snow club this season. It should be interesting to see if any of the other cities will join you now that some cold air is around. WTG Anchorage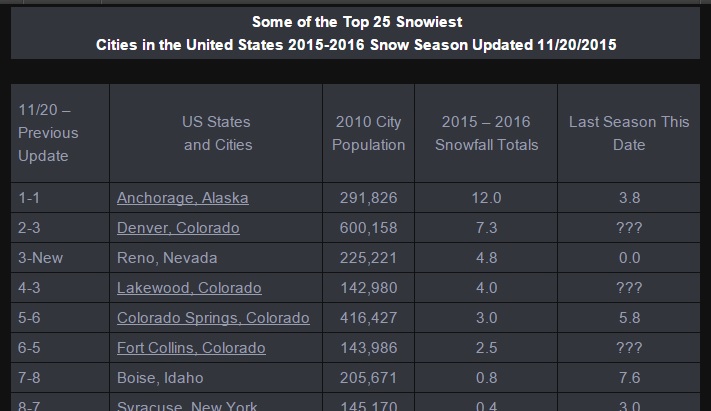 ————————————————-
11/19 – OK, Compared to last season at this time, a lot of the Big cities in the snowiest city in the US contest have less snow so far to date. There are a handful of cities that really stand out and a few that have less than a foot, almost 2 feet less snow than they did last year at this time in the snow season.
Grand Rapids, Michigan as of yesterday is only showing a Trace of snow so far for the 2015-2016 snow season. Last season at this time they had 23.4 inches of snowfall at this time. If it seems like a nice Winter season so far for you folks in Grand Rapids, it is. Almost two feet of snow behind the 2014-2015 season
Erie, Pennsylvania which only has a Trace of snow also so far looked like they were going for a repeat win last season starting out strong with 17.8 inches of snow at this time last season. Erie, Pa was competitive as always but too many storms, lake effect events just missed them. If it wasn't for the near misses Erie's totals probably would have been a couple feet higher by the end of the season. Stop slacking Erie and get it going. You have 17+ inches to catch up to last season
South Bend Indiana also started out really strong at the beginning of last season. South Bend had 17 inches of snow by now. Right now South Bend is reporting just a Trace of snowfall this season also.
A couple others who are dragging this season are Cleveland, Ohio and Boise, Idaho. Cleveland had 9.4 inches of snow last season compared to 0.1 inches so far this season. Boise had 7.6 inches about this time in the 2014-2016 snow season compared to 0.8 inches of snow as of yesterday.
The list goes on and on with cities in the Golden Snow Globe contest that are below the amount of snow that they had last season at this time. In fact most of the cities are behind what their average snowfall shoulf be for this time of the year. I have a feeling that several of the cities will be catching up in the next week or so though with some cold air moving into some of the cities. Stay Tuned
Click Here for Current Snow Totals!
Have an Awesome Night Everyone!