First as always, a Big Thanks to Sue B. for your kind donation to the site. They help out a ton to offset costs. It's also the 1st donation of the new 2015-2016 snow season
Thanks Sue, much appreciated!
—————————————————
Chicago 2nd in Snowiest Big City Contest – Snow Records Broken
Congrats to Chicago, Illinois on taking over the nuber 2 spot on the snow mountain. Chicago broke a couple of date records for total snowfall the last couple of days and slipped past several cities to take over 2nd place in the Golden SNow Globe national snow contest for Big cities. Several other cities also set some snowfall records yesterday as this current snowstorm moves to the east across the country. Some of the snow records set yesterday are posted below.
Anchorage, Alaska is still sitting pretty at the top of the snow mountain and seem to be adding to their snow totals everyday. What a difference a season makes. Anchorage has almost as much snow so far in the 2015-2016 snow season than they had for the entire 2014-2015 season. As of the last update Anchorage had 19.6 inches of snow. For all of last season Anchorage only had 25.1 inches of snow.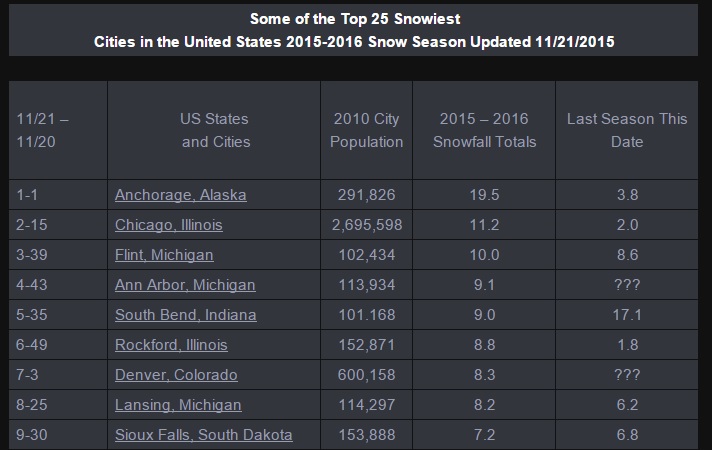 No doubt we are starting to crank up the 2015-2016 snow season and at last check we have 31 Big cities with a population of 100,000 or more setting up camp on the snow mountain. The list will keep growing as this current snow storm moves through and it will be interesting and fun to see what other cities join in on the fun. Maybe Erie, Buffalo and Rochester. It will also be fun to see if Chicago can hold on to 2nd place for awhile because the top of the snow mountain is getting pretty crowded after yesterday's snow.
Some Cities That Set Date Snow Records for 11/20 & 11/21/2015
* Chicago 11/20, New Record 4.2 breaking the old record of 2.8 set in 1996
* Chicago 11/21 New Record 7.0 breaking the old snow total record for the date of 3.0 set back in 1893
* Detroit, Michigan – 11/21 New Record 6.0 inches of snow breaking the old snow record of 1.4 back in 1893
* Des Moines, Iowa 11/20 New Record 6.7 breaking the old record of 2.2 set back in 1956
* Rockford, Illinois – 11/20 New Record 4.9 beating the old of 2.4 set in 1964
* Rockford, Il – 11/21 New Record 3.9 inches beating the old record of 1.0 set in 2007
* Milwaukee, Wisconsin – 11/21 New Record 6.1 breaking the old of 1.2 set in 2007
* Lansing, Michigan – 11/21 New Record 8.2 inches breaking the old snow record of 3.5 set in 1928
* Fort Wayne, Indiana – 11/21 New Record 4.1 inches breaking the old snow record of 2.1 set in 1996
* Peoria, Illinois – 11/21 New Snow Record 4.6 inches breaking the old of 0.4 set in 1957
* Flint, Michigan – 11/21 New Record 10.0 inches breaking the old date record of 4.4 set in 1974
* Indianapolis, Indiana – 11/21 New Record 1.3 inches breaking the old of 0.8 set in 1996
* Springfield, Illinois – 11/21 New Snow Record 0.5 inches breaking the old of 0.2 set in 1950
The snow is still falling as it moves to the East so stay tuned and I will try to get another update in later on in the afternoon. Have a Great Day Everyone and as always SEE SNOWW – DRIVE SLOW