OK, I've been waiting the last couple of days and it finally happened, sort of. All 3 cities from Massachusetts own/share the Top 3 spots as the snowiest Big cities in the US right now with Boston sharing the number 3 spot on the snow mountain with Buffalo, New York.
According to the snow stats that are posted on the National Weather Service's website Boston picked up 0.6, six tenths of an inch yesterday to move them into a tie with Buffalo. Both cities are at 96.3 inches on the season as of yesterday. Way To Go Massachusetts
With the storms you have been getting hammered by the last few weeks you deserve to be on top of the Snow Mountain. Come to think about it, with the epic snowfall that hit the Buffalo area earlier this season in November they deserve their spot on the top also
OK, the emails are still flowing in about which city is in first place right now. Is it Worcester or is it Lowell? Right now your guess is as good as mine to be honest with you. That said right now the National Weather Service shows that Worcester's snow stats are higher than Lowell's. I have to go with what the National Weather Service shows and is reporting on their site. Chances are good that they just may be behind on updating Lowell, MA's snow totals but until then I have nothing to go by so I have to keep it how it is until something else gets reported. If I see a RELIABLE news source show something different and I can confirm it with them then I may change it but probably not. Below is a screenshot of what the NWS shows for Lowell as of around 9 am this morning.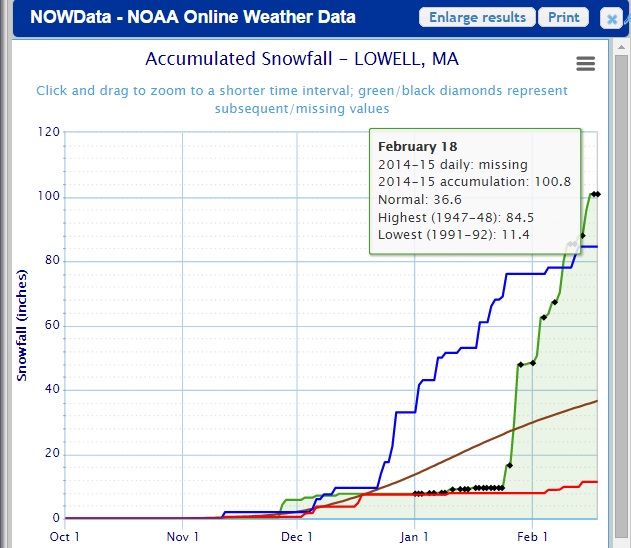 Anyways no matter what city is in first it still comes down to that the 3 cities from Mass own the Top 3 slots. After all you have been dealing with, the shoveling, trying to see over the snowbanks when driving, trying to get down the narrow roads, did I say all of the SHOVELING yet, all of you folks from Mass deserve some kind of bragging rights. For the time being anyways
Way To Go and have an awesome day